Who we Are
Clothes That Work is a grassroots non-profit that has been providing professional clothing, image counseling and training for job seekers in Montgomery County since 1998. More than 34,000 men, women, and independent teens have benefited from the services provided by Clothes That Work. Through the ongoing support of donors, funding partners, individuals, corporations and foundations we have been able to make a real difference in the lives of many people.
We partner with local organizations that refer clients in need of interview clothing to aid in the transition to self-sufficiency. In addition to providing interview appropriate clothing and training on how to dress for work, we also conduct seminars, give interviewing tips and coach on exhibiting appropriate professional behavior. By focusing on the skills our clients need to be competitive in the interview process, we help instill the confidence necessary to succeed.
Our Mission
Clothes That Work will clothe, educate, and empower individuals to prepare them for employment success.
Our Vision
Clothes That Work will be viewed as the leading workforce development resource for improving the professional image and lives of our clients.
Our Clothing Needs
We are looking for clean, professional, modern workplace attire for our clients.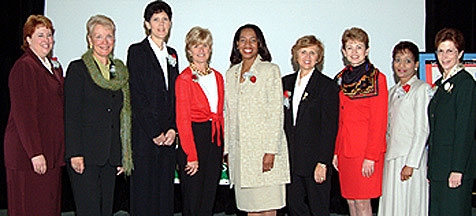 Our visionary founders include Kym Yahn, Linda Lombard, Mary Colegate, Mary Sue Kessler, Helen Jones-Kelley, Paula MacIlwaine, Elaine Johnson, Carol Prewitt, Pat Rider, Bonnie Langdon, Pat Robinson, Lee Armstrong Lumpkin, Chris Olinsky, and Nita Yates.
Frequently Asked Questions
What days/times do you take donations?
We accept donations Monday – Friday from 10 am – 2 pm at Clothes That Work. We also have several community partners that serve as Clothes That Work donation drop off locations around the Miami Valley that can be found
here
. Please note that our office and the donation room will be closed for
these holidays.
Where are you located?
We are located at 1133 S Edwin C Moses Blvd Suite #392, Dayton, OH 45417 at the south side of the building.


What type of clothing do you accept?
Do you give receipts for tax purposes?
Yes, Clothes That Work is a 501(c)3 nonprofit organization, and tax receipts are available for all donations.
How can I receive your services?
Clothes That Work relies primarily on a network of Referral Partners to direct job seekers to us for our services. Personalized image coaching appointments for under-resourced job seekers are available without a referral for nominal fee. Information about our services can be found 
here.
I have an appointment to get clothing; where do I go?
All client coaching appointments are held at the Clothes That Work office, located in the Job Center at 1133 S. Edwin C. Moses Blvd., Suite 392, Dayton, OH 45417.
What happens to my clothing after I donate it?
All donations are sorted by staff and volunteers to separate client appropriate apparel from Boutique appropriate apparel. Your donations help Clothes That Work eliminate a major barrier to employment by providing professional clothing to the unemployed and under-employed in the Dayton community.
What are your hours of operation?
Annual Reports and Fiscal Responsibility
Clothes That Work takes great pride in being the beneficiary of tremendous support from individuals, corporations, foundations, and community partners. We know that you have many options when making philanthropic decisions, and we are committed to excellent stewardship of your investment by following the highest standards of ethical fundraising. We never share or sell lists or personal information about our donors, and we believe in total transparency with regard to the designation of the organization's funds.
2018-19 Corporate, Foundation, and Individual Support
Clothes That Work would like to thank the many different individuals and organizations whose financial support makes it possible to fulfill our mission. Your gifts give us the tools and resources we need to help local job seekers achieve their employment goals!
If you see your name listed incorrectly, or if you feel that your name should be on this list, please contact our office at 937.222.3778 or send an email to events@clothesthatwork.org
2018-19 Corporate, Foundation, and In-Kind Donors
ACCO
American Honda Motor Company
Better Business Bureau of Dayton
Bob Ross Auto Group
Brady Ware
Brixey & Meyer
CareSource
Cargill
CBD Advisors
Centerville-Washington Foundation
Christopher's Catering
Colbert Family Health
Community Foundation of Kettering
Compunet Clinical Laboratories
Cox Media
Nathan Croumer and Jeff Pizza
Dayton Children's Hospital
Dayton Dragons
Dayton Area Board of Realtors
Dayton Rotary Club Foundation
Fifth Street Brew Pub
Fifth Third Bank
First Financial Bank
Gerald & Carole Miller Foundation
Get Dressed Boutique
Greater Dayton RTA
Dayton Heidelberg Distributing Company
High Concrete Group LLC
Houser Asphalt & Concrete
Huntington Bank
Iddings Foundation
Jack and Sally Eichelberger Foundation
Jesse & Caryl Philips Foundation
Kenny Consulting Group
Kettering Board of Education – Fairmont Spirit Chain
Kettering Health Network
KeyBank Foundation
William & Phyllis Kist Foundation
Kitchen Saver
Kuntz Foundation
L Brands Foundation
LCNB National Bank
Leslie Mapp Foundation
Levin Family Foundation
Lewis & Michael, Inc.
Lexis Nexis Cares
Loren Maxwell
Manpower of Dayton
Markey's Rental & Staging
Marsh & McCellan
Mary Kittredge Fund
Mathile Family Foundation
Miami Valley Human Resources Association
Midmark
Midwestern Wealth Management
Mike-Sells Potato Chip Co.
Miller-Valentine Walsh
Oakwood Rotary Foundation
Oakwood Schools Foundation
Old Scratch Pizza
Oniru Group LLC
Physicians Charitable Trust
Pickrel Schaeffer Ebling, LPA
PNC Bank Foundation
Premier Health
Prime Time Party Rental
Pro Source
PSA Airline
Reynolds & Reynolds
Sam Levin Foundation
Schiewetz Foundation
Sebaly Shillito & Dyer
Sinclair Comm College
Spherion
Spurlino Fund
Square One Salon & Spa
Stahl Vision, Inc.
Steven Paul Photography
Stoy Family Endowment of Coastal Community Foundation
Stephanie Sutterlin
Synchrony Financial
Taft, Stettinius & Hollister LLP
The Berry Foundation
The Columbus Foundation
The Dayton Foundation
The Dayton Power and Light Co. Foundation
Think Patented
ThinkTV
Thompson Hine
TW Advisors
Universal Technology Corp
US Bank
Vectren Foundation
Verso
Virginia W. Kettering Foundation
Wallace Foundation
Wilmer Hale LLP
Wright Patt Credit Union
Wright State University Foundation
2018-19 Individual Donors: C.E.O. Society
The Honorable Mike DeWine, Governor of the State of Ohio and Mrs. DeWine
Barcus, Susan & David
Beavers, Eric
Bosch, Marna
Cole, Rebecca
Cutcher, Melissa
Danis, Mollie
DeLuca, Susan
Flannery, Mr. & Mrs. Dion
Froelich, Jeff
Garner, Cindy
Grigsby, Lisa
Hood, Daniel & Barbara
Jenkins, Keith
Kenley, Belinda
Lensman, Kitty
Marya Rutherford Long & Lawrence Long
Maffett, Jennifer
Mason, Louise
Mathies, Bonnie
Mazer, Mark
McAllister, Susan
Moore, Anita
Nickel, Shaw
O'Hara, Barbara
Poelstra, Brenda
Rapp, Patty & Richard
Roesch, Tim & Laura
Seboldt, Margaret
Stack, Kathryn C.
Torvik, Patricia
Wagner, Lisa
Whitney, Betsy B.
Wood, Lynn & Roberts
2018-19 Individual Donors: V.I.P. Circle
Arlt, Lisa
Carroll-Parker, Teresa
Clear, David
Jenkins, Elizabeth
Mahonski, Matt
McCormick, Judy
Morris, Penny
Newell, Brenda
Ponitz, David & Doris
Repperger, Frances
Rudwall, Christine
St. George's Episcopal Church
The Clothesline
Tschudin, Hans and Sherry
Trittschuh, Larry
Winfrey, LaPearl Logan
2018-19 Individual Donors: Sharp Dressers
Briggs, Jamie
Janney, Macy P
Klaben, Mr. & Mrs. Laurence R.
Luxe Dayton
Rider, Patricia
Scholl, Wendy
2018-19 Individual Donors: Corporate Casuals
Abernathy, Sterling & Nancy
Adkinson, Lisa Robin
Ashworth, Linda
Baggett, Rhonda /Eric Flasher
Ballas, Ricia
Barlow, Cassie
Burdine, Megan
Cooper, Megan
Fears, Teresa N.
Feiner, Tara
Franks, Joan
Gorman, Barbara
Harris, Suzy
Ivory, Lucretia
Johnson, Carolyn
Kessler, Mary Sue
Klepacz, Joan
Koop, Rebecca
McNerney, David
McNerney, Kenneth
Mitchell, Marvene
Moore, Delma
National Trail LaSertoma
Olinsky, Christine
Omler, Rick & Elizabeth Hardy
Pado, Jena
Pohl, Carol
Ponitz, Cathy
Prevost, Carol R.
Rathweg, Carolyn
Ravestein, Deborah
Schairbaum, Chris and Amy Askins
Sumner, Suzanne
TASC
Weaver, Denise
Williamson, Terry
Wolff, Marie
Woodhull, Sara
2018-19 Individual Donors: First Impressions
Allen, Janice
Barker, A.
Bigler, Lois Ann
Caraway, Ada & James
Carolyn Rice
Carter, Kim
Clark, Julie
Clifford, Rusty & Carole
Concord United Methodist Women
Crouch, Diane
Curry, Robert
Day, Barbara
Dayton Lasertoma Club
Dowd, Maureen
Elliott, Susan
Ellis, Gerald
Freese, Connie
Froelich, Gary
Greathouse Partners, LLC
Grote, Suzanne
Howdeshelt, Sarah
Howley, Sharon
Kasch, Sonnie & Bill
King, Beverly
Lamberger, Diane
Lamberger, Paul H. and Carol G.
Lieberman, Deborah
McCreight, Gail
Optimist Club of Northridge
Oria, Maria
Powers, Ruth
Purks, Susan
Sillin, Sarah
Scarff, Cynthia
Schaeffer, Beth
Schenck, Barbara
Skuns, Linda
Tatum, Alice
Tomme, Tracey
Wagner, Susan & Lloyd
Walker, Cynthia J.
Woessner, Dwight and Georgie