Clothing & Coaching Program
A great, professional outfit can set you apart from the crowd when you are applying for a job. Our Clothing and Coaching Program is designed to give job seekers the wardrobe they need to be successful in the interview and the advice they need to create a positive, lasting impression. A trained client coach will take you through the entire process, helping you select the best clothes for the job and offering guidance on ways to succeed in the interview.
We have two ways in which you can receive services through this program:

By Referral
Obtain a referral from our network of

 

Referral Partners.
Once you receive a referral form, call our office at 937.222.3778

 

to schedule your personal appointment.
Give yourself extra time to find a place to park at the Job Center so you will not be late!
During your visit to Clothes That Work, you will be provided with a complete outfit at no cost to you, including shoes and accessories, and these clothes are yours to keep.
After you get the job, please call us again for a follow-up appointment, and we will be happy to provide you with an additional 3-4 workplace outfits to fill out your business wardrobe – again, at no cost to you.
Self-Pay
Call our office at

 

937.222.3778

 

to schedule your personal appointment. Please let our staff know that you will be paying for a singular outfit.
Again, give yourself extra time to find a place to park at the Job Center so you will not be late!
You will be charged $40 for one interview or workplace-appropriate outfit, complete with shoes and accessories.
You will receive a one-hour appointment with one of our trained client coaches who will help you select a complete outfit for you to keep.
Workforce Education Initiative
The Clothes That Work education program includes a series of classes and workshops designed to equip both job seekers and currently employed with the knowledge and skills that lead to personal growth and employment success. Our research-based curriculum was skillfully created by a team of area professionals who specialize in workforce development and education.
Since 2017, we've offered more than 420 workshops to more than 7,000 individuals!
Each workshop engages participants in fun hands-on activities and group discussions to build confidence and professional demeanor. Workshop topics include; building a better resume, interview skills, making a positive first impression, proper professional attire, effective communication techniques, conflict resolution, time management techniques, and how to build professional relationships.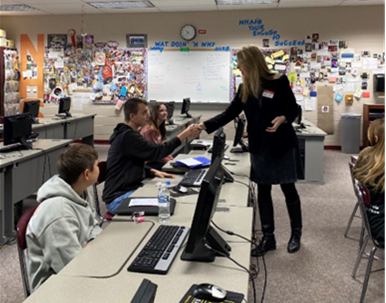 100% of the proceeds from the Boutique go right back to the primary mission of our organization: building self-confidence by providing interview and work appropriate clothing and related training to job seekers striving for self-reliance. Funds from the Boutique allow Clothes That Work to purchase needed items such as women's and men's underwear, socks and shoes, as well as sizes that we may not have on hand.
The Clothes That Work Boutique is an upscale resale shop open to the public featuring high quality clothing from many top designers and retailers. When donated clothing is too colorful, too dressy, or not appropriate for interview or work situations, we sell this clothing in our Boutique.
Did you know that we create pop-up Boutiques all year long across the community? Sign up below to hear about our pop-up Boutique events!